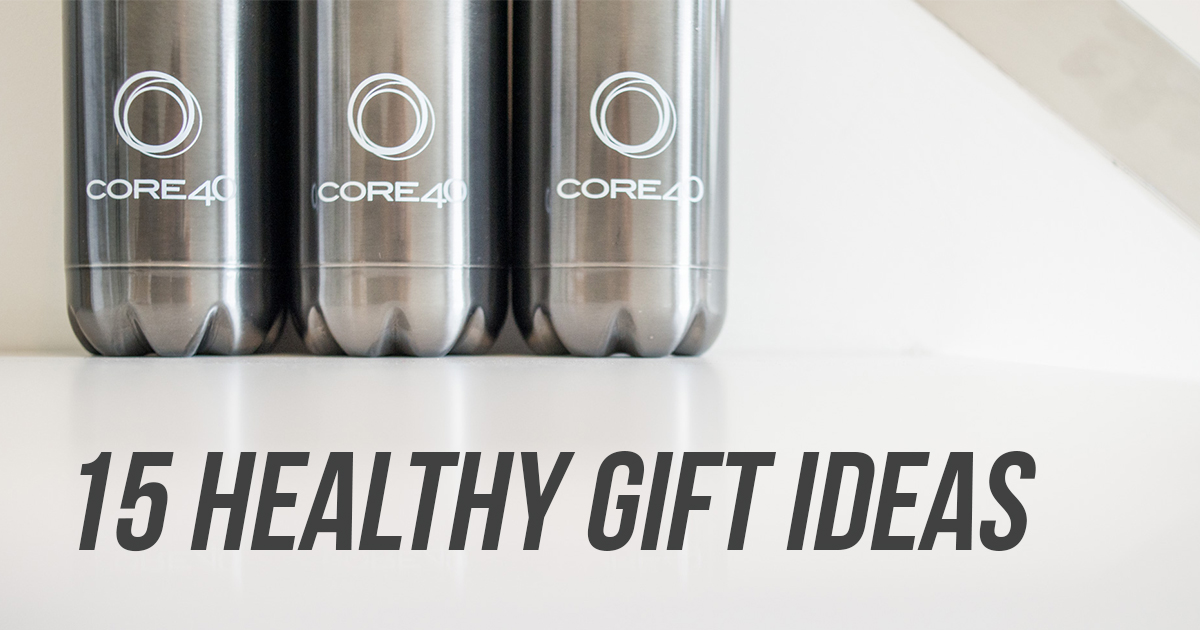 From new experiences to building healthy habits, here are 15 healthy gift ideas for SF locals (and beyond)!
Get floaty with it. Give the gift of defying gravity with a relaxing session at a float spa. The popular San Francisco favorite, Reboot Float & Cyro Spa (Marina), offers plenty of gift card options available for online purchase. Not in SF? No problem. Float spas have been evolving since the 1950's, and there are plenty of modern float tank iterations all over the world.
Knowledge is power. Gift an understanding of the body's basics with a 1-on-1 nutritional consultation. Sometimes even your fitness fanatic friends could benefit from a better understanding of the body's basic metabolic needs. Here are a few companies in SF who are holding it down with the nutritional know-how – Vital Nutrition Services (Sunset/West Portal), Happy Belly Health (Nob Hill),  Food Therapy (Castro), Whole Body Balance (Noe Mission).
Eat to live. Did you know the average person spends 32,098 hours eating and drinking beverages in their lifetime? Not only are healthy cookbooks a great gift for anyone interested in cooking great food, but also for anyone who needs a boost of inspiration from experts who understand what the body needs on a daily basis. "Thug Kitchen" is an excellent (and basic) vegan cookbook; The authors add their own hilarious flare to every recipe, but don't let the humor fool you, that sh** is delicious. A few other tasty reads for healthy inspiration – "My New Roots" (plant based recipes), "The Nourished Kitchen" (Farm-to-Table recipes), "Plant Powered Families" (kid-tested, whole food vegan recipes), "Vibrant Food" (beautiful ingredients and recipes for the seasons).
Fresh to death. Gear is an awesome (and easy) gift for any point on someone's fitness journey. i.e. a foam roller for massaging sore muscles can be paired with either a yoga block/mat for the zen friend, or some fresh apparel from a favorite local shop.
Blow their mind. Looking for an interactive experience? How about bending their reality with tickets to a modern science or art museum – a bit of spontaneity is needed for mental health after-all. Gray Area, in the Mission District, showcases technology + art exhibits throughout the year; Their most recent exhibit, Recombinant Festival, is a 360-degree spatial cinema and sound experience, which takes you through an epic journey of history, love, and art. There's also the newly remodeled Museum of Modern Art, which showcases inspiring minimal art pieces and seasonal exhibits.
"Did we just become best friends?" If you know they enjoy a particular fitness studio, it's never a bad idea to give them a gift card to their favorite spot. Take it to the next level and gift them some studio swag, or a gift card to a juice spot nearby for an after-workout replenishment.
Yes, butter is a carb. A healthy cooking class is a deliciously interactive option to get the creative wheels turning and the metal spoons stirring. Check out "Cozymeal" for a full list of healthy cooking class options in the Bay Area.  
Not from Grubhub. If your friend is always on the go, they'll love a fresh meal or gift card from a healthy food and ingredient delivery company – i.e. Blue Apron, Sun Basket, Thistle, or Freshly. Pro tip – level up this gift by offering to do the cooking for them.
Clean Eats. Score them a dinner for two at a restaurant using simple ingredients. A few favorites: Seed + Salt (Marina), which serves vegan and vegetarian foods in a quaint and modern cafe, Little Gem (Hayes Valley), which features produce from a local farm in Marin, and Shizen (Mission District), which prepares authentic Japanese vegan cuisine (including sushi and ramen).
A sweet reset. Juice cleanses are a convenient way to restore the gut back to clean, and they are an excellent treat for any friend who's on a budget. Not only can a cleanse inspire new juicing recipes for advanced juice-lovers, it can kickstart a healthy lifestyle for cleansing newbies too. A few options in SF – Can Can Cleanse (Pac Heights),  Pressed Juicery (downtown, Noe Valley, Pac Heights), Urban Remedy (Cow Hollow, Hayes Valley, Noe Valley, Ferry Building), The Juice Shop (Cow Hollow, FIDI, Hayes Valley).
Talking Body. For friends who love a therapeutic touch, an acupuncture, a massage, or a chiropractic session will be just the right amount of thoughtful. La Nee Thai in Noe-Mission, or their sister location La Biang Thai in Lower Nob, are tried and tested by the CORE40 fam. Of course, there are plenty of other wellness treatment options in San Francisco — just make sure you read reviews before you gift it!
Spirit meets science. Naturopathic healing is transformation from the inside out. As humans gain new stressors, our bodies need new forms of healing. Consider an energetic assessment or healing session at one of these top rated holistic healers in SF – Shekinah Reiki, Energetic Therapeutics, Vibrant Reiki.
"There are only two mistakes one can make along the road to truth; not going all the way, and not starting." Jump start a loved one's journey into meditation with an intro or private session at a local meditation center – Shambhala Meditation Center of SF (SoMa), WITHIN Meditation (FIDI), San Francisco Vedic Meditation Center (FIDI).
Powerful vibes. In sound healing, practitioners stimulate deep relaxation by creating soothing vibrations with instruments (gongs, singing bowls, tuning forks) and the human voice. Sound therapy is an incredible gift for any loved one who could use a dose of soothing sounds. Check out a list of local sound healing events and mp3 download options at Sound Meditation SF.
Single and Looking. Of course, if they aren't tied to any fitness studio yet, or they've expressed interest in seeing what's out there, gift them the CORE40 Intro Unlimited Month for just $149 (your loved ones will thank you for it). Grab a CORE40 gift card, here.